Power, efficiency, and strength are just a few words to describe the 2017 Ford F-250 and the 2017 Chevy Silverado 2500. America's favorite heavy-duty pickup trucks are the perfect vehicles to take to both job sites and on family vacations.
Our team at Fox Ford of Waynesburg has put together this vehicle comparison for our drivers in Waynesburg, Uniontown, and Morgantown, so you can check out all of the details of these two powerhouses.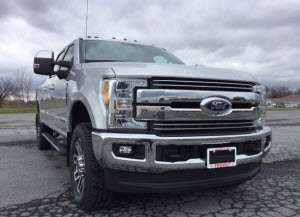 Once you've read about the power and performance, towing capacities, and bed-length options of the F-250 and 2500, you'll have a better understanding as to which truck will work better for your driving needs and lifestyle.
F-250 vs. Silverado 2500: Power & Performance
When checking out your options for a heavy-duty pickup truck, you'll want to know the power and performance ratings of your prospects. Fortunately, you can't go wrong with either the F-250 or the Silverado 2500.
The Ford F-250 comes standard with a 6.2L V8 engine that achieves 385 horsepower and 420 lb-ft of torque. The Chevy Silverado 2500's base model comes with a 6.0L V8 that produces 360 horsepower and 380 lb-ft of torque. So, you'll never lack power when going to your next jobsite or just driving around town!
Towing & Payload
Odds are, you're going to want to carry a thing or two around in your heavy-duty truck. With the F-250 and Silverado 2500, you'll be the neighbor everyone calls on moving day-not that we want to deter you from these moving machines.
The 2017 F-250 can tow up to 18,600 pounds when properly equipped, while the 2017 Silverado trails behind with a towing capacity of 18,100 pounds. That's enough strength to pull a boat, trailer, helicopter, elephant-we could go on.
If you want to know about towing, we're sure you're curious about maximum payload. The F-250 can carry up to 4,200 pounds, while the Silverado 2500 has a max payload of 3,534 pounds. So, load up the beds as you're almost limitless in this category.
Speaking of Beds…
If you're wondering how much the beds can carry, you might want to know the length options as well. This is yet another aspect of both vehicles where they're so close, either one is a winner.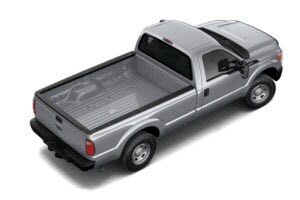 The 2017 Ford F-250 has options of either a 6'8" bed, or you can opt for the longer eight-foot bed. The 2017 Chevy Silverado 2500 follows ever so slightly behind, with a 6'5" bed, and also the optional eight-footer.
2017 Ford F-250 vs. 2017 Chevy Silverado 2500 Results
After carefully researching these two best-selling trucks, we found that you can't go wrong with either! However, if you want supreme power and efficient, then go with the truck with a more powerful base engine, superb towing capacities, and stunning maximum payload: the 2017 F-250.
If you are in the communities of Waynesburg, Uniontown, and Morgantown and would like to learn more about the 2017 Ford F-250, contact us today at Fox Ford of Waynesburg! We'd love to get you set up with a test drive, or answer any questions you have about this dynamic pickup.